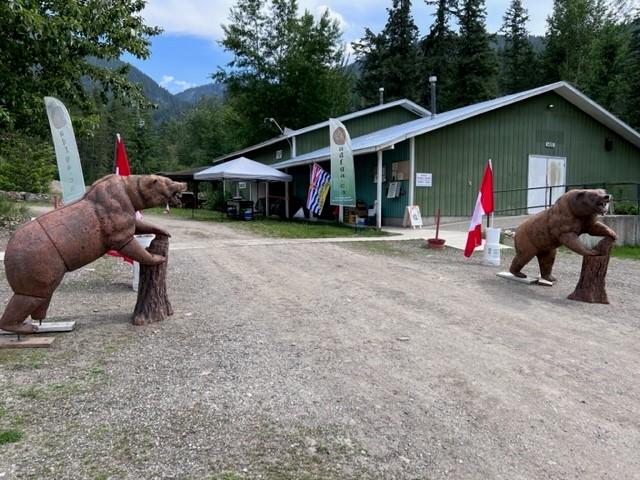 Our Submission to MORNING STAR:
Armstrong and District Fish and Game Association , 1428 Reservoir Road, Armstrong, Vernon


We invite everyone interested in Outdoor Sportsman Activities to come out with your family and Friends.

Try it all! See for yourself, In a safe, secure, and supervised environment. Ages from 6 to 80 can try one of all of our activities.

Its' ALL FREE and ALL EQUIPMENT is PROVIDED -
No licenses are required as all activities will be supervised by either certified Coaches / and /or Members with years of experience. Guests will sign waivers, which will insure them while they are on the property at he Family Fun Day event.

SUPERVISED SPORTING ACTIVITIES offered include:-

Firearms:-
Shotgun -Trap or Clay-birds (Moving Clay targets)
Air Rifle -Static or spinning Target
.22cal Rifle -Static paper Target

Archery:-
Introduction to Basics, shoot at;
Ground Targets, and 3D Targets

Tomahawk & Knife throwing (Wood log, flat face)

There will be Door Prizes & Games, as well as a concession (smokies ,burgers, dogs, pop & chips)

Bring the Whole Family ~ Everyone is Welcome


Registration:
ONSITE:- "SAFETY FIRST"
ONE DAY: SUNDAY 28 MAY TIMEs
-REGISTRATION OPEN 9: AM UNTIL 2:30 PM
- ACTIVITIES START 10: AM SHARP !
- FAMILY FUN DAY CLOSES AT 3: PM SHARP !

View all events for Armstrong and District Fish and Game Association
Website: https://www.adfga.ca
Its with sadness we note the passing of one of ADFGA's founders, Vi Maw
courtesy of Castanet
MAW, Viva Lorraine
It is with heartfelt sadness that we announce the passing of Viva Maw, mother, granny, great granny, sister in law, aunt, and friend to many on May 14, 2022 in Armstrong at the age of 86 years old.

Mom was born to Alva & Lillian McGhee in Vernon on July 27, 1935. She grew up in Vernon with her younger brother David. Mom enjoyed a lot of activities as a young girl such as swimming, going to movies, skating and roller skating which she loved to do with her best friend Amy Picou, her long-time friend to present! Mom was quite young when she got her first job at Muir's Cartage which is now Rocky Mountain Transport in Vernon, she worked there for 8 years. Then one day on a visit to Armstrong, mom was introduced to dad Glen and it was love at first sight! Mom and Dad were married Sept. 20/1958 in Vernon and settled on their farm in Armstrong where they raised their 3 boys.

She was a stay at home mom where she loved being active with her family and working in her garden. She spent many years canning and freezing produce from her garden and had a full deep freeze to prove it! Mom was remembered by her puffed wheat cakes for Halloween treats and her popular Gingerbread people for Christmas! She was an active member for the Armstrong Legion, the Armstrong Fish & Game Association and during the week of IPE you would find her helping out at the United Church booth!

Mom really enjoyed her bus trips with girlfriends to operas, sightseeing and to Stanley Park while dad was on his hunting trips. She and dad would make trips to Delta & Seattle to see family and a special trip where they drove up to Alaska which they thoroughly enjoyed. They also enjoyed their A&W coffee visits several times a week with treasured friends. But most of all she loved family gatherings with her children and grandchildren where family was the world to her. She was a genuine lady with a HUGE heart of gold and loved life!

Mom & Dad resided at their farm in Armstrong until 2018 then sold their farm to Grandson Harley and moved to Heaton Place where they resided until March 2021, then due to health reasons they both moved into Pleasant Valley Manor until present.

Mom is survived by her son William (Leanne) and their children Jason, Harley, Angela (Paul), Meaghan and 8 great grandchildren. Son David and his family. Sister in law Margaret Duguay in Seattle WA, nieces and nephews and a very dear friend Amy Picou.

She was predeceased by her loving husband and best friend Glen in 2021, son Gordon, Brother David and her parents.

We would like to thank Dr. Viljoen for his care and to the amazing staff at Pleasant Valley Manor for the outstanding loving and compassionate care you gave mom while she resided there. She truly loved living there and all of the staff!

"To the world you are a mother, to our family you are the World." Until we meet again mom, We LOVE YOU Always and Forever!

A Funeral Service will be held at 11:00am on Thursday, May 26, 2022 at Alternatives Funeral & Cremation Services (2980 Smith Drive, Armstrong). Burial will follow at Armstrong/ Spallumcheen Cemetery.

Donations may be made in Viva's honor to the Heart & Stroke Foundation (310-2540 Shaughnessy Street, Port Coquitlam, BC V3C 2A9).

Expressions of sympathy may be forwarded to the family at www.MyAlternatives.ca.
Link: www.MyAlternatives.ca
2022 Board Members
We recently held our AGM with Board elections. We are very happy to welcome Angela Ferrari as our new Membership Director and Lyndon Ivey as our new Archery Director! Thank you for stepping up to support your club! A huge thank you to the rest of the Board that is continuing on for another year as well!
President - Ryan Pat, Vice President - Dave Maw, Treasurer - David Conery, Secretary - Lisa Pat, Range Chairman - Wayne Ingram, Memberships - Angela Ferrari, Game Enhancement - Dave Maw, Black Powder - Harold Norris, Archery - Lyndon Ivey, Trap - Ryan Pat, Pistol - Ryan Pat, Events - Vacant, Volunteer Coordinator - Lisa Pat, IT/Website - Don Williams
Thank you TNJ Plumbing! ADFGA received some donated toilets to improve on our existing ones and Tim and Jordan from TNJ Plumbing donated their time to install them! They should always and forever have first dibs in line to use the bathroom at any of our club events!
Range Safety Volunteers It is going on 2 years now since we implemented Range Safety Orientations so that all of our members using the range can do so, knowing all the same safety rules. With over 900 members, this was not an easy feat! But since implementing the orientations, we have seen a drastic decrease in improper use of the range and much better protection of target stands etc which saves the club money! We owe a huge thank you to the handful of volunteers that dedicate their time to offer these orientations. If anyone else is very familiar with using all aspects of the range and would be willing to offer 1 hour per month to offering orientations, please email adfga2011@hotmail.com so Lisa can get you started!

Congratulations to Eliana, Grahame and Lloyd who are our Okanagan shooters at the 2022 BC Provincial Indoor Archery Championships, held in QuenialLBC, May 15-17 2022. Lloyd achieved a BC record and achieved a Gold medal Grahame achieved a silver medal in his age group Eliana, a gold medal and earned 5/18 of all the mail match gold medals last year. Way to go!
Big Buck Family Day - Sunday May 29Volunteers Needed! We are combining our traditional Big Buck Night and our Family Fun Day into the NEW Big Buck Family Day!
This is an open house for anyone to come check out what we do at the club and to try out some shooting and throwing! Also, you get to show off your 'trophies' to win a trophy!
But before we get to those details, we can only run this event if we have volunteers so please contact Lisa to discuss how you would like to help out! These are the areas we need volunteers for: • Door Prizes• Trap Shooting• Air Rifle shooting• 22 shooting• Archery• BBQ• Photos This is a fun day for everyone and has been an important fundraiser for the club so please help out where you can! Please email Lisa at: adfga2011@hotmail.com
Trap and Pistol Leagues
Our weekly summer Trap and Pistol leagues are starting up again next week! No registration is required. In addition to the fees below, non-members will be charged $5 to cover insurance.
Trap: every Sunday at 9:30am and every Wednesday at 6pm
Punch Card (10) - $70 available for members only Per round costs $10 for members and non members
Pistol: every Thursday at 6pm Punch Card (10) - $30 available for members only Per drop in - $5
Shooters must provide their own firearm, ammunition, ear and eye protection. Please bring cash as payment.
PVSS Bursary Announcement We are super proud and excited to announce that our Bursary recipient has been selected! Congratulations to Chase Procter! Chase is a graduating student at PVSS who plans on continuing his education in Natural Resource Protection and Management. Chase says that he is passionate about this field to help protect our natural environment and wildlife. Good luck with your future studies Chase and we look forward to seeing you at your Ceremony!

2022 MEMBERSHIPS - PLEASE BUY NOW If you plan on getting a 2022 membership but haven't yet, please get one as soon as you are able. We depend on membership sales to cover expenses throughout the year and your purchase of one earlier on very much helps with that. They continue to be available for purchase online and at Nelson's Glass and Monashee Outdoors in Armstrong• Online at https://www.adfga.ca/memberships.php• In person at Monashee Outdoors (cash preferred)• In person at Nelson's Glass (cash only)

RANGE SAFETY ORIENTATION We are changing the schedule of Range Safety Orientations and require additional volunteers to help us provide them when requested. Please contact Lisa at adfga2011@hotmail.com if you would like to help out!
ARMSTRONG DISTRICT FISH & GAME ASSOCIATION
April 2014
Hello fellow club members,
Well, its that time of year again. Last year was a record breaking year for club membership
and it's looking like it's heading that way again. Welcome to all our new members.
l've had a few questions about the third party liabllity insurance you get with your
membership. Here's how lt works. when you become a member of our club your name it sent to the
BCWF and you become a member ot their club, They are the ones who have the 3d party liability
insurance which is caried by HUB lnaurance. when you get your BCWF number, they will send you
the info on your insurance. lf you have any questions when you get this Info there is a number You
can call and they will help you. l'm not an insuanae broker so I can only answer the basic questions.
The number on the wallet card you received wlth this letter is your number for our club only. You use
this number when you sign in at the range or when you need a pistol permit. We try to give you the
same nurhber each year but sometimes it doesn't work out that way. The reason I haven't sent these
cards out earlier ls because I have to wait until after the Annual General Meeting in March so I can
have the executives names and numbers printed on the cards. I hope this answers some of your
questlons,
We had our AGM on March 19 and all the executives stayed on. This will be Walter's last year
as president. It is the only office that has a 2 year limit. lf your interested in any of the executlve
positions, come out to a few of the meetings. They are not long and boring They can be quite fun
sometimes. We are getting bigger turn outs and its always nice to have new views.
We dldn't have as big of a turn out as we've had In the past for our Big Buck Night. it's always
held the last Sat. in January. That's when you bring in anything you think ls trophy worthy and it's
scored to see if It measures up. We have discussed having anyone bringing in fish or bird weithts also
having a plcrure of yourself with it. We figure the people getting anything with a horn or antler can't
exagterate the size ahd you know how those ftsherman are, and everyone has a phone that can take
pictures (well, almost evcryone). Anyhow, we try to make this night abost the kids (they're the future
executive of the club) and they seem to really enioy themselves. lf you've never been, think about
comlng next yaar.
Another big event for the club is Fun Day. We have areas set up for anyone, adults and kids, to
try diffurent things like bows, pellet guns. skeet shooting, axe throwing etc, We also give out the
trophies that day. There is a mlnimal fee just to cover some of the expenses. Don sends out emails to
remind members of these events so if you don't get an email it could be we don't have your address,
AII the inforihation ls also on our website. www.adfga.ca email ADFGA2011@hotmail.com, .
There has been a little trouble with someone shooting the 3D targets. Those targets are fol
the bow Shooters only and they are very expensive to replace. Please refrain from shooting anything
other than what is designed for your weapon.
Well, that's about all I can think of for now. Don't forget lf you have any questions please
refer to the names and numbers of the executives on your card and give the appropriate peson a call
or maybe you'll find the answer on the website, Don tries to keep h up to date so it doesn't hurt to
check in every so often. You never know, you might see your picture.
Have a wonderful summer and stay safe.
The executive
Armstrong & Dist.ict Flsh & Game
MONASHEE MOUNTAIN MEN
Newsletter , March 24 2013
A very enjoyable shoot today at Armstrong with John Nissen having the top score. Of course he was aided by having a telescope sight on his rifle. Second place to Jack Stead, who was observed resting his rifle against a tree. Third place to Roly Blades, shooting a flintlock, and in spite of frequent misfires, shot a very good match, and all off hand. The day was brightened by having two new shooters with us. We hope to see them again.
Notice of annual meeting.
Our annual meeting will be held in conjunction with the second planning session for our May Rendezvous. It will be at the Pantry Restaurant, 3908 32nd St, Vernon,
April 7th, starting at 9AM. This is a breakfast meeting. Hope to see you there.
There is a verse before the Chorus of the old song, "It's A Long Way To Tipperary."
" Paddy wrote a letter to his Irish Molly Oh. Saying if you don't receive it, write and let me know."
Another joke about the Irish, and here I am doing the same thing by telling you if you don't get this mail send me your current e-mail address.
The way my mail program works is that if there is one error in the thirty plus names this message goes to, then nothing is sent until I find and delete the abandoned address. So... if you don't receive this, write and let me know.
Kamloops Gun Show, April 27, 28.
Jack Stead, secretary
(250) 832-2541
ARMSTRONG & DISTRICT FISH& GAME ASSOCIATION
April 26, 2012
Hello again fellow members
I hope this finds everyone healthy and enjoying the spring weather.
We've had our AGM in March and the outcome of the voting was everyone on the executive got to keep their jobs. Because the president can only stay in office for 2 years, Trevor will have to step down next March so if you would like his job, it will be open. A motion passed increasing membership prices by $10 so for 2013 fees will be singles $65, Families $75 and Juniors still $10
We are holding a raffle this year as a fund raiser for the club. The prizes are
1- a 10' fiber glass boat with an electric motor
2- a Mitchell fly rod with reel
3- a Floyd Ternier knife.
The tickets will be $10 each and if you would like a few books of tickets to sell, please contact anyone on the executive. The draw will be made next Jan at our Big Buck night.
I guest most of you know by now but for those of you who don't, we are now on the web. Don Williams has made a great website for us and just about anything you want to know about the club is there. Just go to www.adfga.ca email:adfga2011@hotmail.com. Along the same line, if you haven't been getting emails from us about different functions going on, it could be that we don't have your email address or that we may have it down wrong (some of your writing is pretty hard to read sometimes). If you would like to make sure you get these emails, please contact Don Williams and he'll get you set up.
How to get your memberships? Because I no longer work at the co-op gas bar, the only places to pick up a membership is at Nelson's Glass in Armstrong Mon to Sat or if you feel like going for a walk, you could walk into the caretakers trailer. Joanne has memberships there. You can also get them over the internet but then you won't be getting your key for a few days. If you have any questions please feel free to call any of the executive. Their #s are listed on the back of the membership card that is with this newsletter.
We had our annual clean-up March 15 and we had the biggest turnout ever. We've gotten the range looking so nice and we also got the caretakers trailer painted. Thanks to everyone who showed up. It sure shows what many hands can do in a short time.
Our range chairman Harold Norris would like me to give you some rules for the range. The rules for the range, and these have to be followed or we could be shut down are,
No shot guns on rifle range,
No hand throwers on range PERIOD,
No Browning machine guns or metal jackets,
Any target stands have to be approved by the executive of the club.
We don't want to sound too strict but these are the rules we have to follow to stay open. Remember, there is a subdivision just to the north of us.
We have had someone shooting the 3D targets with rifles. The 3D targets are for arrows only. And again, we have people not cleaning up after themselves. Could you please pick up your casings and clay pigeons when you're done.
In case you haven't noticed, the gate keys have the year (12) stamped on them. We hope this will help some of you who were getting them confused with all your other keys.
Ryan Pat, one of our members, is starting a pistol league. If you have a pistol and would like to join the fun they will be shooting Thursday evenings starting at 6:30. They are hoping to work towards I.B.P.A. league. If you're interested bring your pistol and lots of ammo. All skill levels and spectators are welcome. If you would like any more information, show up there Thursday evening.
Our meetings are the third Wed. of every month except July and August at 7:30 p.m. at the club house so if there's something about the club you would like to address or if you would just like to meet some of your fellow members feel free to show up.
Our annual Fun Day will be held on May 13. It's a great opportunity for anything from archery to pellet guns. We do trap shooting at different times throughout the day and it's always great fun for the whole family. The trophies will be given out that day too. Hope to see you there.
Well, that's about all I can think of for now. Hope to see you at some of the functions and have a great summer.
The Executive
Armstrong & District Fish & Game Association